Business Loans Australia
:: Calculators
Business Loan Repayment Calculator
Use this calculator to estimate the monthly repayments for a secured or unsecured business loan.
Business Loan Details: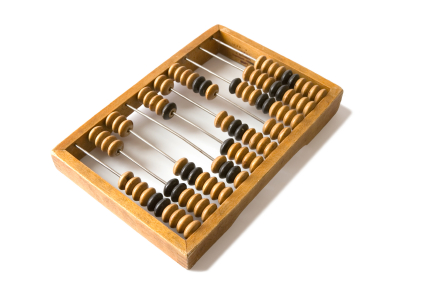 Important!
Business Loan Interest Rates differ from lender to lender and will depend on your individual circumstances (credit history, employment status, age, etc.). To find out if you qualify ... and for a free, personalised interest rate and repayment quote, please CLICK HERE
Business Loan Amortization Calculator
The following amortization graphs detail month-by-month data on the progress of the proposed loan. The first chart below examines the reducing loan balance over the course of the finance contract term. The second graph illustrates the portion of each monthly repayment allocated to payment of interest vs principal reduction.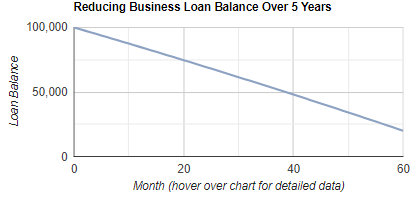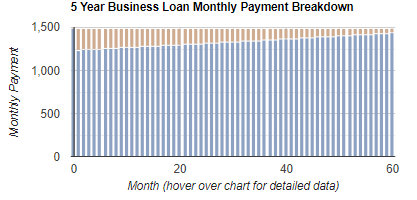 Choosing the Right Bank


Financial institutions are located all around the world. If you are looking to open a bank account, whether that bank account is a transactional account or a savings account, you have a number of banking options.

- read more
Five Worst Credit Card Mistakes


Credit cards can be an excellent way to manage your finances ... they can even be an investment tool. However your credit card can quickly become your enemy if not used correctly. Here are five of the worst mistakes most credit card holders make. If you can avoid these mistakes, you will benefit greatly.

- read more
Co-Signing Loans - Risky Business


There may come a time in your life when you are asked to co-sign for a loan or credit card. If this is the case, there are several things to consider before making a final decision. Technically, you are putting yourself at risk of damaging your own credit in the event that the loan goes unpaid.

- read more
Balloon Payment Loans: 6 steps to make the loan profitable


Did you know that you can reduce the monthly payments on a loan to half of what they should be by using a balloon payment? Handled correctly, structuring your loan to include a Balloon Payment will increase your bottom line. Mishandled, a Balloon Payment can cause real headaches. Here are 6 steps to keep it smart.

- read more
How Credit Card Balance Transfers Can Damage Your Credit Rating


Since the banks and finance providers have been castigated for the way they seemingly indiscriminately awarded credit to people who could ill afford it, the chances of being accepted for loans and credit cards have decreased. Concurrently, there is a greater focus on individual's being aware of how credit works and what their financial behaviors means in terms of a credit score and history.

- read more
Mortgagor:
A person who offers to assign an asset as security (e.g. real estate) under a mortgage loan contract. The lender (mortgagee) holds the legal ownership of the security until the loan is repaid and the mortgage is discharged.