Business Loans Australia
:: Calculators
Car Loan Repayment Calculator
Use this calculator to estimate monthly car loan repayments
Car Loan Details: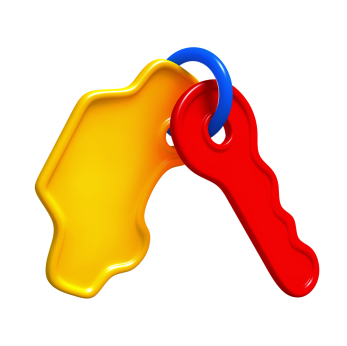 Important!
Car Loan Interest Rates differ from lender to lender and will depend on your individual circumstances (credit history, employment status, age, etc.). To find out if you qualify ... and for a free, personalised interest rate and repayment quote, please CLICK HERE
Car Loan Amortization Calculator
The following amortization graphs detail month-by-month data on the progress of the proposed loan. The first chart below examines the reducing loan balance over the course of the finance contract term. The second graph illustrates the portion of each monthly repayment allocated to payment of interest vs principal reduction.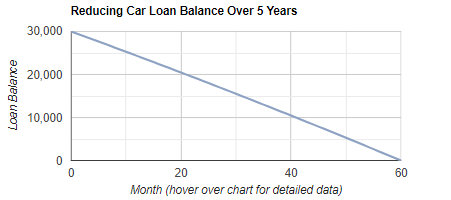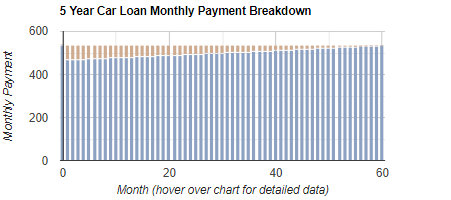 Utilising A Chattel Mortgage for Business Finance


A Chattel Mortgage loan is a simple yet effective finance option designed for business plant and equipment purchases. Here are six rules to consider when arranging finance for your business that will ensure that you retain full control over the loan process and save money in the process.

- read more
How Credit Card Balance Transfers Can Damage Your Credit Rating


Since the banks and finance providers have been castigated for the way they seemingly indiscriminately awarded credit to people who could ill afford it, the chances of being accepted for loans and credit cards have decreased. Concurrently, there is a greater focus on individual's being aware of how credit works and what their financial behaviors means in terms of a credit score and history.

- read more
Credit Card Secret Guarantee


Most people use credit cards in some form or another but few truly appreciate one of the special features of credit cards that make using their credit card to insure their purchases.

- read more
Choosing the Right Bank


Financial institutions are located all around the world. If you are looking to open a bank account, whether that bank account is a transactional account or a savings account, you have a number of banking options.

- read more
Debt Consolidation:
Debt consolidation usually involves negotiating a new loan to pay other existing loans in order to get more favourable interest rates and terms.